Check back for upcoming events.
Past Events
CPAA 5K Walk/Run Click here
Saturday, March 12, 2011
York St. Patrick's Day Parade
Saturday, March 19, 2011
Harrisburg St. Patrick's Day Parade
* Saturday, April 9, 2011
York County SPCA "Doggie Egg Hunt"
at Morgan E. Cousler Park (1060 Church Road - York)
* Saturday, May 7, 2011
Helen O. Krause Animal Foundation Inc.
Pet Walk on Harrisburg City Island
Harrisburg Holiday Parade
Saturday, November 20, 2010. Thanks to all who came out to support Pet Guardians, especially Elvis (Brad Crum).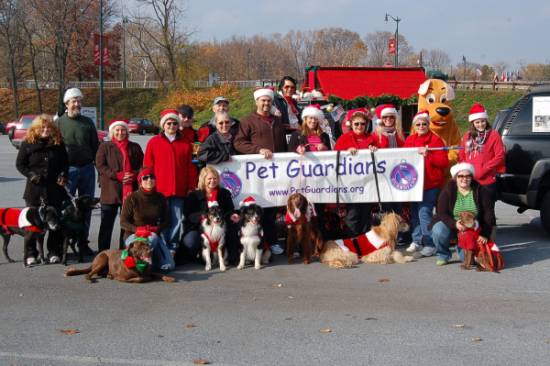 Neffsville Vet's 40th Anniversary Celebration (all proceeds went to Pet Guardians)
Saturday, September 25, 2010
11:00 AM to 3:00 PM
Neffsville Vet Clinic
2555 Lititz Pike, Lancaster, PA

Lancaster Harley Davidson Open house Sat. & Sun., Sept. 25-26, 2010
10:00 AM to 3:00 PM
308 Beaver Valley Pike, Willow Street, PA
Stauffers of Kissel Hill—Rorerstown Hoagie Sale, Sat., Oct. 2, 2010 http://www.skh.com/calorg.html
Millersville Community Parade

"Wild, Wild West," Saturday, October 23, 2010

*Thanks to Participants & Dog Walkers*
York Halloween Parade
Sunday, October 31, 2010
*Thanks to Participants & Dog Walkers*